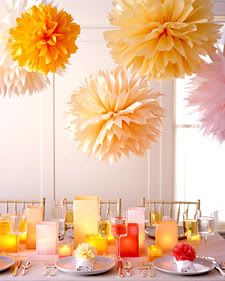 It was a quiet night on Friday so I was looking at my Wedding Blogs that I follow daily and I came across a new trend in decor for weddings and events, tissue paper pom poms. I found a great tutorial from Martha Stewart
(click on image above for tutorial).
On Saturday, I headed to Walmart to find tissue paper. To my surprise, the superstore had an amazing display of a variety colors. For only $1, the package included 9 sheets.
I was anxious to begin working on the project. I picked up black and yellow, since I am hosting my sister's graduation party from Pacific Lutheran University with her Master's in Elementary Education next month, so I am planning early.
After looking at Martha's instructions and several video tutorials on You Tube, I was ready...well I thought I was. My first attempt at a pom pom was not very successful. I recommend making a few practice pom poms playing with sizes, folding and cutting creative edges.
Now, I think I am getting the hang of it.
Here are my first attempts of the pom poms: